An article in the May/June 2010
Charlotte Living Magazine
caught my attention. It is titled Who's Dressing the Groom? Penned by Richard Pattison (RPatz?).
"Weddings are planned entirely around the bride....and they should be! But don't forget the groom on this special day! It's his debut as a newlywed, too. He may never get equal billing to the bride, but some attention must be directed to the groom's wardrobe......"
I agree, the star of the show is the bride. But it is equally important not to forget about the groom on this day. He needs to be well dressed (even complimenting the beautiful bride), be well groomed and relaxed. He should spoil himself during the days leading up to the joyous occasion. I know I plan to.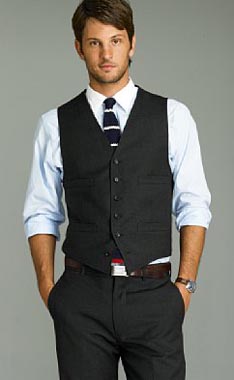 "And yes, buying the tuxedo is the proper decision. Rented formal wear is designed to fit 'Joe Average,' not Prince Charming. And do you really want the groom wearing a tuxedo that some young buck wore to his high school prom, especially when the bride looks sensational in the dress of her dreams?
I can see how renting a tux can be beneficial for some. It can be cost effective if you do not plan on wearing it again? Or if you want to be completely overstated and fly way below the sartorial radar. I, on the other hand, do not plan on renting. It's not my style. Though I may not wear the outfit "as is" for a long time. Even to the point of "retiring" some of the pieces, the neck wear, socks, belt, tie clip, etc. I want to offer up some of my own creativity for the special day. Those pictures aren't going anywhere.
It's great to be a Florida Gator
"Your wedding day may be the most remembered day of your life...it will definetely be the most planned. No matter your style of wedding, focus some attention on the groom. It's a decision you'll always be happy with."
Couldn't have said it better myself!
Have a Happy Wedding Day,
Brian